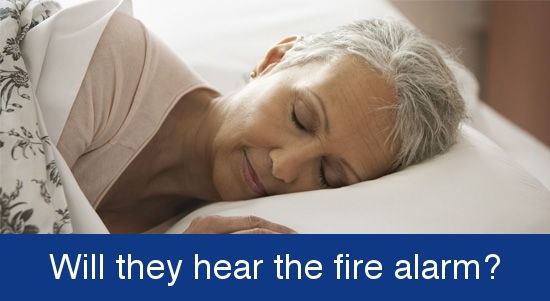 Your worry: I can't be there all the time – how will I protect my parents from potential fire as their hearing is weak and their responses are slow? Especially considering that they have been directed not to wear their hearing aids at night.
ISICare Solution: Fire Protection with supporting auxiliary devices. Our fire safety product bundled with devices available for people who are deaf and/or hard of hearing.
The system actively listens for the sound of the smoke alarm; once it hears the smoke alarm, it will provide several reliable notifications;
Audible low frequency alarm and the bed shaker vibrates, important for night-time safety. (Optional)
Upgrade smoke detector as required(95% of smoke detector have expired life expectancy( per your local Fire department-10 year life only)
Central monitored support 24 hours a day and connected automatically on detection
Provide two-way voice communication with resident
Identify situation and dispatch fire department and or caregiver if required
Guide resident on three way call with support, such as to close bedroom door, get information occupancy and people location at the time of event
Your worry – What if something happens and someone needs to get into the home?
ISI solution: Secured metal security box. ISI would install a secured key box with code, easy access for family, friends, caregiver and/ or emergency responders.
Your worry – What if something happens and they cannot hear the fire alarm.
ISI solution: Bed shaker ISI would bed shaker that would vibrate the pillow or bed to make sure they are awaken.