Home Automation Systems
Our goal is to help make your life more convenient, safe, and fun. ISI Innovative Solutions Inc. is your single source for hundreds of affordable home automation products that will greatly increase the level of comfort and efficiency in your home.
With the touch o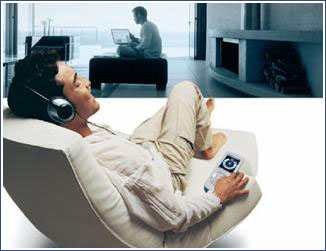 f a button or touch screen, you can control your lighting, heating, music, security system and even your window blinds. Also, for your convenience, many home automation systems can be accessed by telephone or computer.
Integrate the world of technology into your home today, and experience a level of comfort and convenience that, before, you could only imagine!
ISI Innovative Solutions Inc. offers a suite of technology that enables complete audio visual, home and digital media control. These multimedia systems allow you to seamlessly connect, control, and interact with digital media and consumer electronic devices in the networked home.
Imagine viewing your vacation photos or any other digital pictures from any monitor or TV in your home. Imagine sharing your extensive collection of digital music with everyone in the house and blasting your tunes through surround sound speakers, instead of your mp3 player headphones or PC speakers. Imagine controlling all of your Audio/Visual Devices, as well as digital media content, through a single device anywhere, anytime, and customized based on your own preferences.
Smart Media Servers store and manage thousands of hours of music and digital video images, providing easy retrieval from anywhere in your home. In addition, the systems can be programmed to learn your music preferences for each theme, and to apply those preferences to automated song selection functions. With the Media Server connected to the Internet, you can even enjoy Internet Radio throughout your home.
Smart Homes

Smart Condos

Enviromentally Friendly Technology – Make Your Home Green!

Home Automation Technology

Smart Automation for Special Needs Families